Tips, tricks, and facts on how to hire a logistics warehouse
How to hire a logistics warehouse
As a business grows, it often becomes necessary to hire a warehouse manager to oversee storage and shipping logistics. A warehouse manager is an integral part of a business that deals with shipping and handling merchandise and products. They help pick, pack, and ship items to clients and customers. In addition, they may also be responsible for inventory management and ensuring that all products are accounted for.
There are a few key things to keep in mind when hiring a warehouse manager. First, make sure you have a clear idea of what you're looking for. Do you need someone with experience in the logistics industry? Or is it more important that they have managerial experience? Once you know what you're looking for, start posting a job ad and screening candidates. Make sure to ask questions that will help you determine whether they are a good fit for the role. Finally, be prepared to make a decision quickly, as top candidates are likely to be in high demand. This article provides tips, tricks, and facts on how to go about hiring a warehouse manager. It covers important factors such as budget, experience, and location.
What is a logistics warehouse?
A logistics warehouse is a facility where merchandise is received, sorted, and distributed to a retailer. The products are typically delivered to the warehouse from manufacturers or importers and then shipped to retailers. A typical logistics warehouse operates with the following three sections: receiving, shipping, and storage. In order words, warehouse logistics is the process of organizing and handling the physical movement of products. This includes receiving products and getting them ready for shipping and managing data associated with this flow, such as fulfillment times or product information.
The average person works about 3 hours at a logistics warehouse. This is because most of the work needed in this type of facility can be completed relatively quickly. In addition, many warehouses have machines that do some of the work for employees, such as moving boxes around or sorting products.
Data and visibility
With the right data and visibility, businesses can have a real-time view of their inventory and transactions. This allows them to make more informed decisions about what to stock and place orders against stock directly through the portal.
A logistics warehouse is where goods are stored and managed before they are shipped to their final destination. To keep track of all the activities in a warehouse, many businesses use data-driven dashboards that give managers real-time information about what is going on. Managers can then approve, cancel, or edit orders using interactive queries.
A warehouse typically has a temperature-controlled environment, which is necessary for storing food, pharmaceuticals, and other products that can spoil quickly. To ensure the real-time traceability of the products in their warehouses, many logistics companies partner with carriers who offer tracking through RFID tags or barcodes. This way, they can provide their customers with up-to-date product location and status information.
What are the services offered by contract logistics?
Contract logistics is a field that provides warehouse solutions to clients. This can include anything from developing a successful supply chain strategy to providing storage and order fulfillment services.
Contract logistics experts can help companies with various needs to make their supply chains more efficient and profitable. Contract Logistics can provide you with a custom solution for your needs by using the latest technology, backed by skilled operations managers and supply chain design specialists.
They also provide skilled operations managers and supply chain design specialists who will support your logistics needs. Using a contract logistics provider can save time and money while getting the most out of your supply chain.
A logistics warehouse offers a wide range of services, the most important being transportation. Contract logistics companies have a dedicated global network of international offices to manage inbound and outbound transportation quickly and efficiently. This way, they can meet the needs of their clients no matter where they are in the world.
Warehouse management and fulfillment
Warehouse management and fulfillment manage a warehouse under a single system and base foundation. This allows for better organization, efficiency, and tracking when fulfilling orders.
Warehouse management and fulfillment is a service that helps businesses connect their sales channels to automate the process of sending orders to the warehouse. Once an order is placed, it will automatically be sent to the warehouse for associates on the floor to begin picking. This will help your business keep up with customer demand and improve your fulfillment times.
Contract logistics offer warehouse management and fulfillment processes powered by an automated order fulfillment system. This allows them to manage a network of logistics centers strategically placed around the globe.
Inventory management
Inventory management is a process that encompasses tasks such as picking allocation, aging, inventory control, and product integrity. This system allows you to keep track of your stock and receive notifications when products are nearing their expiration date or have been damaged.
Contract logistics providers offer various services to their clients to help manage inventory. This can include improving inventory accuracy, utilizing warehouse management systems that optimize inventory and tracking, warehousing operations, workload distribution, and shipping.
Contract logistics companies can provide an efficient and cost-effective service for their clients by using these tools and strategies. Contract logistics providers offer a cycle counting program that helps maintain an accurate inventory. They also have warehouse management systems that help generate electronic picking lists, which can speed up getting products to consumers.
Warehousing solutions offer you unparalleled visibility and real-time insight into all warehouse transactions. In addition, warehouse management systems make your warehouse run smoothly and efficiently. You can track inventory levels, manage to ship and receive, and optimize your storage space.
Yard management
There are a few different ways to approach yard management, but one of the most efficient methods is to rotate containers based on free time. This requires a check-in and check-out process so that you can keep track of when each container is available.
In detail, a warehouse management system (WMS) is software that manages all the activities in a warehouse. This includes tracking inventory, organizing and managing workflow, and shipping products. In other words, WMS helps warehouses run more efficiently and effectively. As a result, companies can save time and money on their operations.
Warehouse management systems are designed to give you a real-time view of what is happening in your warehouse. This helps you make better decisions about managing your resources and improving your operations. For example, you can improve your yard management and ensure that every action is accounted for with the right system in place.
Third-party logistics
Third-party logistics, or 3PL, is the outsourcing of the logistical functions of a business. This includes order fulfillment, packaging and shipping, and other services to get orders to customers. It can be a great option for businesses that focus on their core competencies and leave the logistics to an expert.
Third-party logistics providers offer various services to their clients, the most important of which is helping businesses connect their ecommerce stores with the tools and technology they need to manage orders and inventory. Additionally, many third-party logistics providers offer supplier-managed inventory, which gives businesses access to a wider range of products while still having those products managed by a single provider.
Contract logistics providers offer a wide range of services, including warehousing, storage, and forward stocking. This allows businesses to focus on their core competencies while the contract logistics provider manages the rest. In addition, these services can be tailored to meet the specific needs of each business.
Handling fulfillment in-house
Handling fulfillment in-house means you are responsible for the entire retail fulfillment process yourself, including warehousing, managing inventory, packing boxes, going to the post office, or having carriers come to you. Outsourcing fulfillment or sharing warehouse space with anyone outside your company is not considered handling fulfillment in-house.
They can provide our clients with multi-regional inventory stocking locations. They can store their products in our warehouses located in strategic places like Asia, Europe, and the United States. This will help them to handle fulfillment in-house and improve their customer
Plan for logistics warehouse
A successful business is always looking for ways to improve its operations and increase efficiency. One way to do this is by outsourcing certain tasks, such as warehousing and logistics, to a third-party provider. However, before you can even begin your search for a warehouse or logistics company, you need to have a clear plan. This includes specifying your business objectives and mapping out your roadmap; without these things, it will be impossible to determine if you hit your targets or not.
Planning for a logistics warehouse is essential to ensuring that your company can take advantage of the many benefits. For example, you can lower your operational costs by improving inventory management and accuracy while increasing customer satisfaction. Additionally, planning will help you find the perfect location for your warehouse and ensure that you're getting the best deal possible on leasing or purchasing space.
Planning for warehouse logistics is an important process to optimize costs and time. By understanding the needs of the business and what type of warehouse will fit those needs, a business can save money and operate more efficiently.
Warehouse logistics is the process of efficiently storing and retrieving products to meet customer demand. This process can be divided into two parts: Planning and Picking Orders. Planning is where you decide what inventory needs to be stored in the warehouse and how much space it will take up. Picking orders is where you physically pull the product from the warehouse and prepare it for shipment. It takes a lot of effort and resources to operate a warehouse, so it's important to plan everything correctly.
Gathering requirements
It is important to gather all the necessary information to make sound decisions when starting a business. One of the most important aspects of this process is understanding your customer base and location. This information will help you determine what products or services to offer and how best to market them.
Before designing a logistics warehouse, it is important to gather the requirements. This includes understanding the order volume and what the current solution looks like. Once these are understood, it will be easier to design a warehouse that meets the needs of both the company and the consumers.
The first step in gathering requirements for a new logistics warehouse is to calculate the cost of the current solution. This will help identify areas where there may be room for improvement and provide a basis for comparison when considering other potential solutions.
Location
When deciding on a warehouse, there are many factors to consider. One of the most important is the location. The optimal location for your warehouse depends on your specific needs. For example, a warehouse near a transportation hub would be cheaper if you need to be close to transportation hubs to send and receive goods easily.
Location is key when it comes to warehouses. Warehouses in urban areas or big cities are more expensive because of the real estate prices. However, they are also near shipping destinations, which can save on transportation costs.
When it comes to finding the best place for your logistics warehouse, questions in the requirements gathering phase will help identify the most important factors. First, knowing where your customers are is essential; it is easy to identify the best warehouse location to serve them once you know that.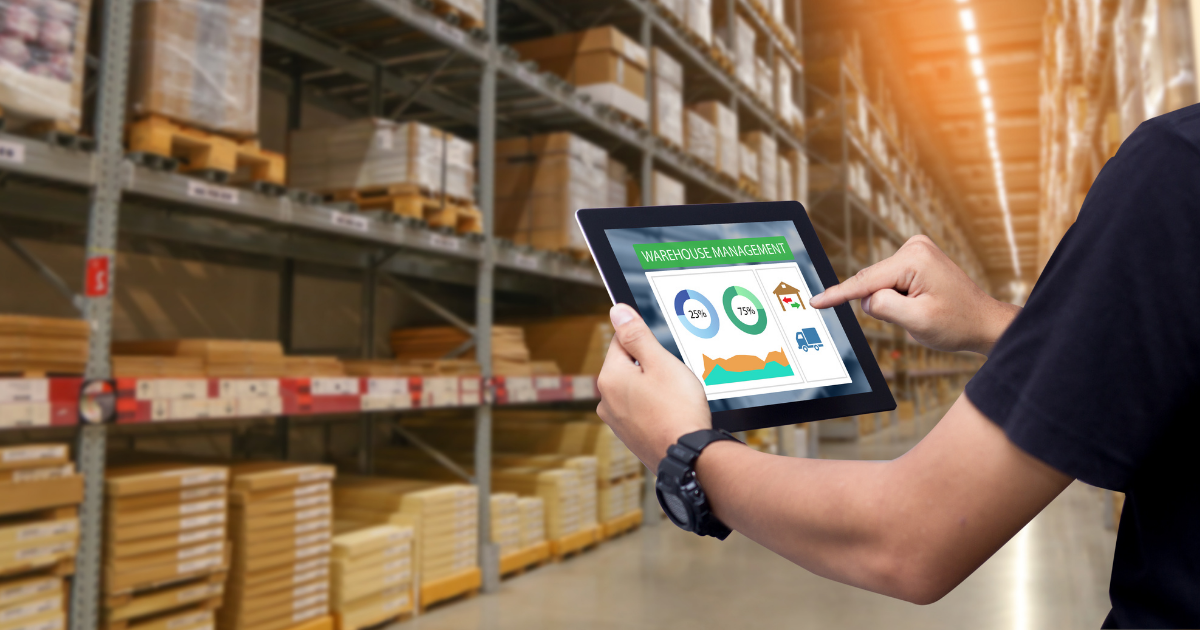 Measure warehouse logistics performance
To continuously improve warehouse operations, you need to measure warehouse logistics performance. This will help you identify areas that need improvement and help you take corrective action. However, if you do not understand how to measure warehouse metrics, your warehouse's operations could come to a standstill.
While it is difficult to set targets for the future, it is important to measure warehouse logistics performance to ensure that you are meeting or exceeding expectations. By measuring inventory, receiving, put away, and fulfillment metrics, you can get a good sense of how your warehouse is performing. This will help you identify areas where you need to improve and make sure that your customers are happy with your service.
To measure the performance of a warehouse logistics operation, it is important to track key performance indicators (KPIs). Warehouse logistics is the process of planning, organizing, and controlling the flow of goods in a warehouse. By understanding these KPIs, managers can make data-driven decisions about improving their warehouse's operations.
On the whole, warehouses are an integral part of the supply chain. They provide a space for companies to store inventory and products until they are ready to be shipped out. To maintain an adequate level of performance, it is important to have the correct workforce and machinery in place. Furthermore, warehouse logistics should be regularly monitored and assessed to optimize operations.
It is important to understand how the inventory is planned and picked to measure warehouse logistics performance. Generally, orders are taken into consideration inventory, and goods are picked based on those orders. This way, the warehouse logistics are aligned with the broader organizational goals and the supply chain.
Latest posts by Damian Wilcher
(see all)